I know, I haven't kept up with this in a while..I've been so buisy, really. We had 5 assignments due today in AP art, I'm set to go with my 4 pieces in AP ceramics now, every week is a new painting for senior project, had to submit a mini portfolio for Young Arts, submitted more pieces for another Nikon contest, Printed out the photos I wanted to use for portfolio day yesterday, tried to fit in taking some more pictures in film, andd on top of that just the regular dcc english and dcc gov't hw:) :/
Yesterday was Portfolio Day! It was probably one of the best days this month for me, Or at least most successful...I hope I made a good impression on everyone I met and saw. A lot of inspiration, so many ideas I need to jot down..so many choices, so much to think about and still so much to do.
A few people keep exposing me to different artists and photographers..and let me tell you, it is So helpful to see what others have done. You really do need to see what others have done which will help inspire your work for hopefully the better. Its so much at once though...and I cant function too well in the cold either. Winter time has been proven to change peoples attitudes and moods, usually more towards the depressed side. Lack of sun/warmth=lack of happiness??
Also, I was shown to Tom Carabasi, (Who is the photo chair of Ringling currently) and I really like how he puts together some of his photographs...kind of abstract in confusing way but its interesting. It seems he goes to an environment or area to record everything he finds appealing and somehow puts it all together into one image...very creative. He gives you so much to look at and I want to try something like it. Of course, this is only a first time practice to have fun with, nothing professional looking lol. Here is my sister: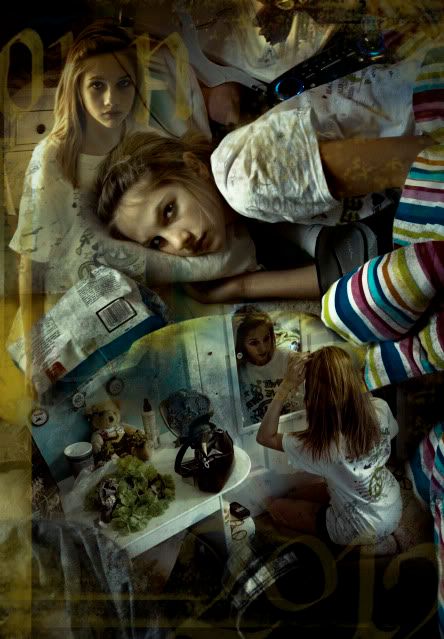 Photography class tomorrow! SoOo its probably time to get some sleep soon...but i'll probably get caught up in some sort of editing again or looking up more artists:)